Splish Splash! Bath Time Baby Gift Basket - Large (Set of 22)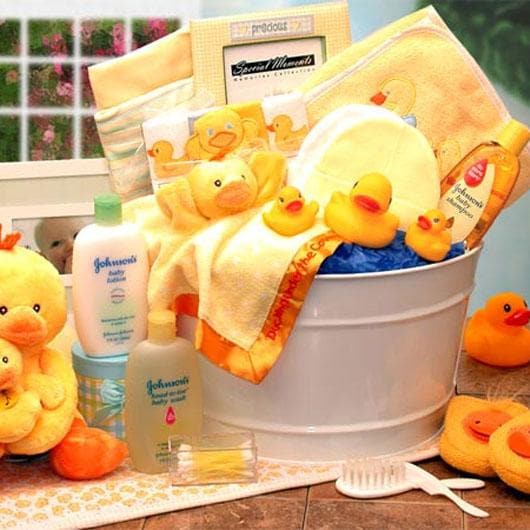 Splish splash, you'll be taking a bath-and enjoying every minute of it! The water-loving ducks are waiting to invite baby for some frolicking fun with this bath-time baby gift basket.
This 22 piece set includes a Baby Wash Tub (12" round), Johnson & Johnson Tearless Baby Shampoo 7 oz., 12" Momma Duck and 3" baby duck, Ultra plush baby duck security blanket, 1 100% Cotton Tee Shirt, Hooded Baby Bath Towel (various designs, not all are ducks), 2 Baby Caps, 4 Terry Cloth Wash Cloths, 5x7 Baby Picture Frame (holds a 3x5 photo), 3 Rubber ducks (1 momma and 2 babies), Baby Bootie set, Baby Brush & Comb Set, Johnson & Johnson Baby Lotion 9 oz., and Johnson & Johnson Baby Wash 9 oz.
Note: The content of the baskets, etc are subject to availability and substitutions for similar items may be made.