Personalized Birthday Gold Compact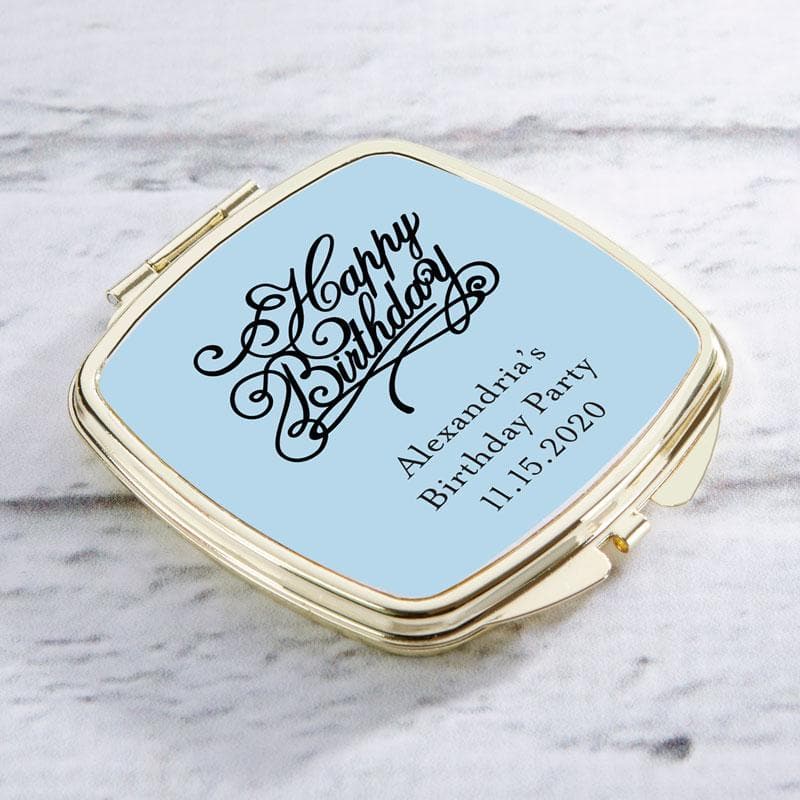 Your birthday should be celebrated with the right amount of glamour and your favorite friends. After celebrating your special day, send your guests home with a versatile party favor. These Personalized Gold Compacts from Kate Aspen make a great gift for anyone to take home. Featuring dual mirrors, these compacts are great for on-the-go whether your guests need to touch up their makeup or simply check their appearance. The front can be personalized to fit your theme, with unique designs and celebratory images! It's easy to pick out a party favor when Kate Aspen makes it so easy with a wide selection of products and designs to choose from. These Personalized Gold Compacts are even more exquisite for your guests to remember the special day every time they want to look in the mirror. The sturdy compact is perfect for purses or displaying at home as a memory of your birthday. Party favors from Kate Aspen are a great way to showcase your gratitude for your guests without the hassle of searching for multiple gifts. These gold glam compacts are personalized for a great look and a functional favor for friends and family. Gift them before or after the party for a keepsake to remember every year.
Features and Facts:
Colors:
Gold
Materials:
Metal and paper
Details:
Gold finish, square metal compact with two mirrors on the inside. Compact mirrors can be personalized with your choice of Birthday sticker design. Due to personalization, please allow 3-5 business days for processing.
Dimensions:
2.6" w x 2.9" h x 0.4" d
Selling Unit:
Individually
Minimum Quantity With Personalization:
Minimum of 24
Assembly Required:
Some assembly required