Personalized Baby Shower Gold Compact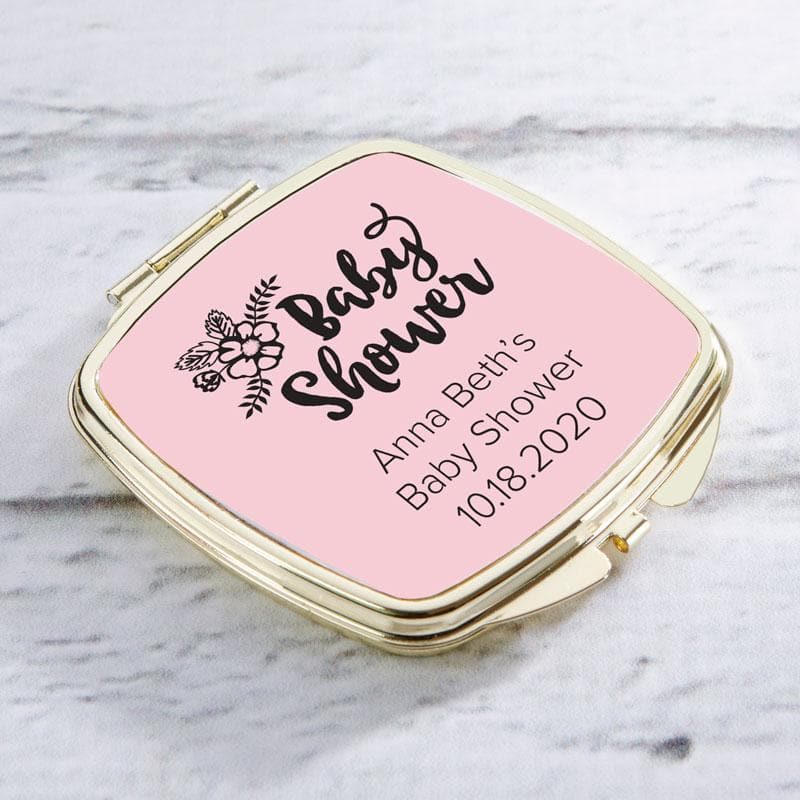 How pretty is this Personalized Gold Compact from Kate Aspen? Compacts can be used to tote in your purse or at home when you need to touch up your makeup and freshen up your look. The message on the front cover can be personalized with a design of your choosing. If you're looking for unique baby shower favors, guests of all ages can benefit from this personalized compact. The opportunities are endless with personalization from Kate Aspen! Whether your baby shower is nautical themed or traditional, there's a sweet symbol for all. Perhaps you want to display the spring or fall season of your baby's arrival. Make these compact favors your own with a sweet message your guests will treasure. Personalized Gold Compacts from Kate Aspen feature dual mirrors on the inside, perfect for any occasion or situation. The message on the outside will remind your guests of the special day and help them celebrate your new arrival. When you want to show your appreciation for the occasion, a practical baby shower favor is the way to go. Look to Kate Aspen for stylish favors your guests can use and enjoy wherever they go, especially Personalized Gold Compacts!
Features and Facts:
Colors:
Gold
Materials:
Metal and paper
Details:
Gold finish, square metal compact with two mirrors on the inside. Compact mirrors can be personalized with your choice of Baby Shower sticker design. Due to personalization, please allow 3-5 business days for processing.
Dimensions:
2.6" w x 2.9" h x 0.4" d
Selling Unit:
Individually
Minimum Quantity With Personalization:
Minimum of 24
Assembly Required:
Some assembly required