Twins Deluxe Welcome Wagon - Boy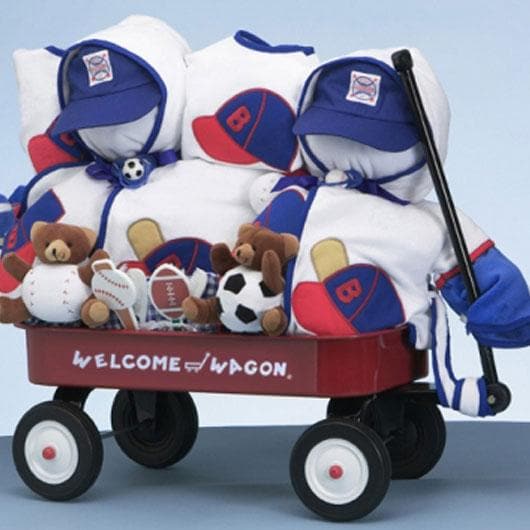 With cute twin boys on the way, Mom and Dad will need two of everything, and this fun-filled twin boys' baby gift set has lots of what they'll need for bath time and playtime. Rough-and-tumble sports are the name of the game with baseball, football and soccer embellishments throughout! The Twins Deluxe Welcome Wagon is just the baby gift you've been looking for! The set includes:

• Deluxe (24" x 10" x 23" H) welcome wagon (suitable for play with adult supervision)
• 2-terry velour bath robes (12 mos.)
• 2- terry velour hooded towels
• 2-terry velour bibs
• 2-sports-themed soft toys
• 2-sports-themed brushes and combs
• 2-sports pacifiers
• 2-baseball caps
• 2-wrist rattles
• 2-plush toys
The wagon is delivered beautifully gift-wrapped in tulle. Rush orders available before 8:00 AM Eastern Time.
All rush orders will be shipped via USPS.