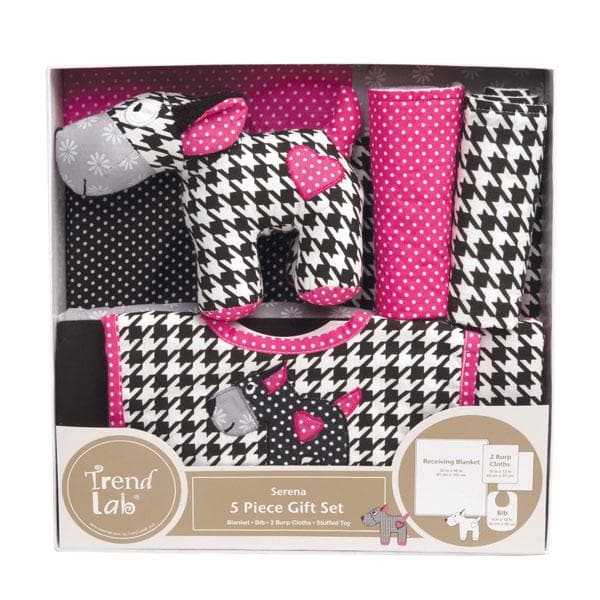 A trendy chevron print accents the design of this darling set for babies. Soft fleece fabric makes up the charming accessories of this special gift to present at the baby shower. The absorbent material is perfect for clean ups and makes a precious addition to your nursery theme.
Features and facts:
Color(s):
Black, Gray, Pink & White
Materials:
Cotton, terry cloth & fleece
Details:
Welcome baby with this adorable Serena 5-Piece Gift Set. Set features a multi-patched blanket, appliquéd bib, two burp cloths and a patched stuffed puppy all made from a mixture of charming cotton prints giving a homespun feel. Bib and burp cloths are backed with soft, absorbent cotton terry cloth while the blanket is back with cuddly pink fleece.
Dimensions:
Blanket: 32 in x 40 in | Burp Cloths: 10 in x 13 in | Bib: 8 in x 12 in | Stuffed Toy: 5 in
Selling Unit:
Set of 5
Minimum Quantity Without Personalization:
1 Set
Minimum Quantity With Personalization:
N/A
Assembly Required:
None